Organza fabric is a sheer, lightweight, plain weave fabric often used in wedding dresses, formal wear, specialized costumes, curtains, table runners, and more due to its delicate and decadent appearance. Organza has a stiff texture due to the acid treatment part of the creation process. Organza fabric was traditionally made from silk, however today it is also made from synthetic fibers such as polyester and nylon.
Organza fabric has been a large part of the fashion industry for centuries, spanning back to the Middle Ages. Though not as exquisite as silk, organza was a staple in elegant formalwear.
What Is Organza?
Organza is a type of lightweight fabric made with a plain weave. This sheer fabric is woven in a low density, resulting in a thin and transparent textile. Organza is known for its transparency and high breathability and is commonly used to make items that overlay thicker garments.
During the Middle Ages, organza was solely made of silk; today, contemporary organza comes from synthetic blends like polyester and nylon.
History of Organza Fabric
The word "organza" is believed to be named after the Turkestan town, Urgang, which housed one of the most popular silk markets on the Silk Road (the trading route from China to Europe). The organza name derives from another material known as "organzine." Organzine is a raw silk yarn that's used for warp threads in delicate fabrics.
Organza came to be during the Middle Ages and was integrated into the French and Italian languages as "organsin" and "organzino," respectively.
Though the name organza came from a Turkestan town, the fabric originated in China, as with most silk fabrics. Beginning with Europe, organza began to spread across the world via the Silk Road.
Organza was first made with silk by a delicate and complicated process that involves weaving and twisting filament yarns.
Properties and Characteristics of Organza Fabric
Organza fabric gets its sheen and transparency due to tiny holes created during the weaving process. It's a sheer fabric with many unique characteristics, including:
Fabric breathability
Sheerness
Stiffness
Lightweight properties
These properties make organza the ideal material for heavier, more rigid pieces of clothing and decor.
The tiny holes throughout make the organza fabric breathable, perfect for clothing worn in the summertime and warmer climates. These elements combined with the acid treatment and twisted fibers create the delicate sheerness of organza often used in elegant wedding gowns and formalwear.
Due to the acid treatment, organza has a stiff texture that makes it perfect for garments and decor that require a structured silhouette.
Types of Organza Fabric
Traditional organza fabric is made with silk, but today there are several variations of this delicate, lightweight fabric. The six main kinds of organza fabrics are below.
Crushed Organza
Similar to traditional organza, crushed organza is an elegantly shiny fabric typically created with polyester. This fabric is intentionally treated, so it appears crushed or wrinkled.
You'll often find crushed organza in tablecloth overlays; the wrinkled appearance adds glamor and dimension for decorating and is perfect for drapery and sashes. Crushed organza is a versatile fabric also used for tops and blouses.
Crystal Organza
Crystal organza, also known as twinkle organza, is the most popular and common organza type. You've likely seen it or bought it before. The fabric is soft, sheer, and lightweight, with an all-over sparkle/crystal texture and feel.
This fabric is ideal for creating beautiful, full skirts on wedding dresses, evening gowns, and ballroom couture. Crystal organza boasts a fullness and volume that create the perfect layered skirt.
Embroidered Organza
Embroidered organza is just as it sounds; this fabric takes the standard organza fabric to the next level with the addition of embroidery.
The options are endless with sequins, rhinestones, lace, and different patterns for a decorative twist.
Mirror Organza
This type of organza is true to its name as the shiniest form of organza. Mirror organza is a shiny and crisp fabric that reflects light extremely well. It's a beautiful fabric that's easy to cut, sew, wash, and iron.
Mirror organza is usually made with polyester and boasts a soft and smooth material. This fabric is perfect for treating rooms, decorations, and chair sashes.
Satin Organza
Satin organza exudes the shiny quality of satin while retaining the crisp structure and drape of traditional organza.
This fabric is best used in garments and decorations where you want the look of satin but the rigidity of organza.
Shot Organza
Shot organza is made using different colored silk threads as the warp and weft. The multi-colored finish gives off a gradient of colors and is mostly used for decorations.
This type of organza is very elastic and as lightweight as a feather. But it still has the stiff texture typical of traditional organza.
How Is Organza Fabric Made?
The organza weaving process is very delicate, so complexity and precision are crucial. Because of the way the filament fibers must get twisted, most organza is woven by hand. You can make organza with a machine, but this may compromise the quality.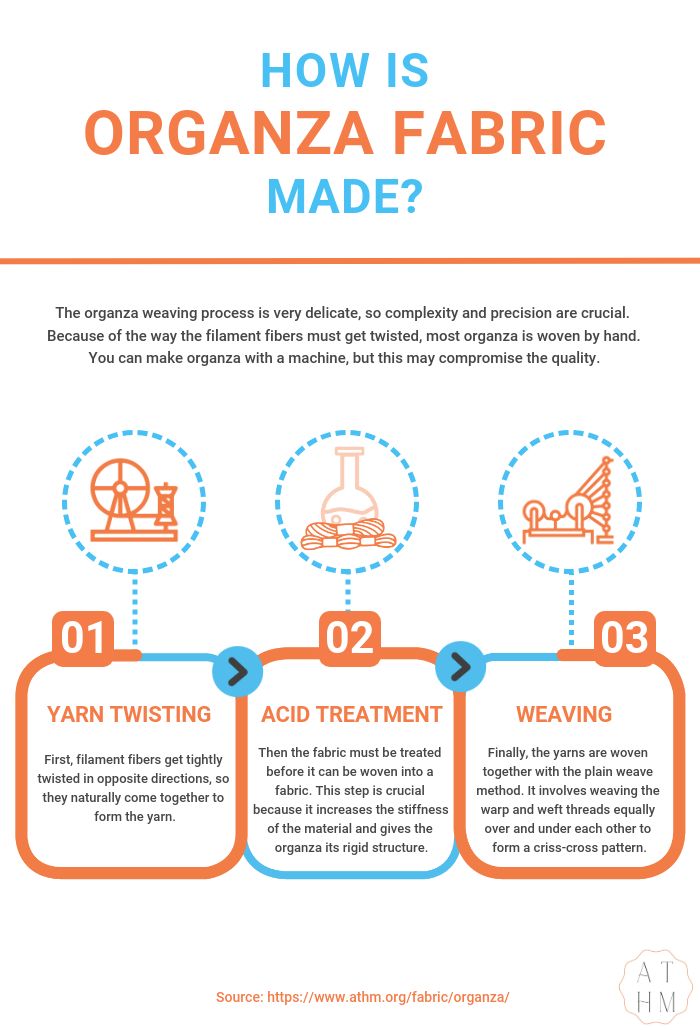 The complex organza weaving process can get broken down into three steps:
Yarn twisting
Acid treatment
Weaving
First, filament fibers get tightly twisted in opposite directions, so they naturally come together to form the yarn.
After this step, the fabric must be treated before it can be woven into a fabric. This step is crucial because it increases the stiffness of the material and gives the organza its rigid structure.
If the organza is made using synthetic fibers, this step may not be necessary because they are usually naturally stiff.
Finally, the yarns are woven together with the plain weave method. This method is also called the tabby weave and involves weaving the warp and weft threads equally over and under each other to form a criss-cross pattern.
How Is Organza Fabric Used?
Organza fabric is a staple in the fashion industry—namely in formalwear—but is also used in accessories, costuming, and home design.
Bags
Organza is most popularly used in the small, transparent bags used for gifting and storing accessories like earrings and necklaces.
Bridal Gowns
Arguably the most common use of organza, this shiny, smooth material creates soft, full skirts for gowns. Organza's stiff drape and rigid structure are perfect for creating the silhouette of a wedding gown. The fabric is also used to create bridal veils.
Costumes and Evening Wear
Organza is the perfect fabric for stage costuming, specifically for dance outfits like tutus and skirts, thanks to the structure of the material and the way it reflects light.
Organza is also often used for layering over opaque fabrics like silk or satin to add dimension and shine to elegant evening gowns, prom dresses, and more. Because organza is a transparent fabric, designers can use multiple layers to create specific shapes.
This fabric is also used to create an overlay for shawls and dresses.
Home Decor
With the versatility in designs and patterns in organza, it's popular to use this fabric to create decor like table runners and sheer fabrics for curtains. Organza is also used for event decorations like seating accessories, aisle runners, and wedding arches.
Advantages of Organza Fabric
Organza is a lightweight and versatile fabric that's popular for many apparel and decorative items. Its transparency, sheen, and stiffness make it a popular choice for use in wedding gowns, other formal wear, decorations, and bags.
Lightweight
The lightweight properties of organza fabric allow designers to layer it under opaque fabrics like silk and satin to create billowy skirts perfect for elegant gowns.
Sheerness
Because of the tiny holes formed during the weaving process and the innate quality of silk, organza reflects light beautifully. This characteristic is especially appealing for items like skirts, curtains, and table decor.
Stiffness
The acid treatment step in the organza creation process yields fabric with a stiff texture. This property is beneficial for use in evening and wedding gowns and works nicely under opaque materials like silk and satin.
Transparency
Tiny holes created during the organza weaving process create a transparent fabric, making organza great for layering over or under fabrics to create different designs. The more holes you see per inch, the higher quality of the organza fabric.
Breathability
Most advantages seem to be centered around the tiny holes in organza, but that's one of the most defining factors of the fabric. These holes make the fabric extremely breathable, great for clothing worn in the summertime or warm climates.
Disadvantages of Organza Fabric
Of course, it's not all easy sailing when it comes to working with organza. This fabric is very particular. Because of its sheerness, it must get paired with other fabrics and materials to create a final product.
Here are some of the main disadvantages of organza fabrics.
Easily Wrinkled and Stained
Because of its stiff nature, organza doesn't drape well but sits in long folds. Also, sweat may stain and ruin your organza piece, so you must be conscious of where your item is used and who wears the garment.
Since it's a delicate fabric, this propensity to stain makes it a less favorable choice for everyday garments.
Tears
The beautiful, soft fabric that is organza is also incredibly delicate. It may easily tear when manipulated, so you must use caution when sewing with it.
Upkeep
Unfortunately, you can't just throw organza in the washer and dryer—except for mirror organza. To preserve the integrity of your fabric, you must wash it by hand or take it to get dry-cleaned.
Alternatives to Organza Fabric
Organza's unique characteristics make it a staple in the fashion industry—but what can be used in its place? The best alternatives to organza fabric are chiffon and tulle.
Chiffon
Chiffon fabric is created from a weaving process that uses the s-twist and z-twist crepe yarns that get twisted tighter than standard ones. The resulting material is sheer and boasts a floating and shimmery look, similar to tissue paper.
Commons uses for chiffon include:
Blouses and tops
Evening gowns
Home decor
Lingerie
Sarees and dupattas
Scarves and sashes
Tulle
Tulle fabric is a fine mesh net fabric used to make bridal veils and create embellishments on wedding gowns. The fabric can be made from various natural and synthetic fibers like silk, nylon, rayon, and cotton.
Tulle is most commonly used for:
Wedding dresses
Bridal veils
Formalwear
Costumes
Lingerie
Hats
Window treatments
Floral arrangements
Voile
Similar to organza, voile is a lightweight, semi-sheer fabric made with the plain weave method. Voile has a higher thread count than a lot of cotton fabrics, resulting in a silky soft feel.
This fabric is available in various prints and colors, usually with flowers, stripes, polka dots, or geometry.
Popular uses for voile include:
Summer dresses
Flowy dresses
Tunics
Skirts
Tops
Lingerie
Loungewear
Children's clothes
Batiste
Batiste is another lightweight material with a semi-sheen that is easy to machine and hand-sew. This fabric is perfect for smocking and embroidery, among other projects and garments.
Batiste is commonly used for:
Embroidery
Smocking
Heirloom sewing
Lingerie
Blouses
Where Is Organza Fabric Produced?
Organza was originally produced in China and traded along the Silk Road. Of course, China remains the biggest producer and exporter of organza fabric today. The production of this fabric happens in many organza weaving mills that sit along the Yangtze River—mainly in the Zhejiang province.
Another country known for the production of organza is India. You can find stiffer types of the material in the Bangalore region. France and Italy are also known to produce high-quality organza fabrics.
How Much Does Organza Fabric Cost?
The cost of organza fabric varies depending on the materials used in the weave. Organza made with silk, for example, will cost more than organza made with synthetic fibers.
Here's a breakdown of the average cost for the main types of organza:
Crushed organza: $2.10–$7.37 per yard
Crystal organza: $2.45–$8.99 per yard
Embroidered organza: $2.50–$10.50 per yard
Mirror organza: $3.70–$5.78 per yard
Satin organza: $2.99–$13.99 per yard
Shot organza: $2.99–$14.95 per yard
What Certifications Are Available for Organza Fabric?
It's common to wonder where your clothes or fabric come from, and you can determine that by looking at the tag. But did you know that fabric manufacturers can earn certifications for their products?
Depending on how they are produced, manufacturers can register for multiple certifications.
If it's important you choose high-quality, environmentally-friendly, or vegan-friendly organza fabric, understanding what certifications are out there will help you pick the right material.
Below are some of the most common fabric certifications.
EcoVero
LENZING EcoVero fabric contains viscose fibers that are sustainably certified. The best part about EcoVero fabric is that it requires only half the amount of water of generic viscose. Even better, CO2 emissions and the use of fossil resources are cut in half.
GOTS
The Global Organic Textile Standard (GOTS) certificate consists of two main categories. These categories are defined by the percentage of organic materials used.
Organic
To be organic with GOTS, the fabric must contain at least 95% organic material.
Made With (X%) Organic
For this category, the fabric must contain at least 70% of organic-certified products.
In addition to the organic categories, GOTS certification requires manufacturers to meet ecological and social criteria. The environmental piece requires the use of organic fibers, exclusion of PVC packaging of the products, and imposes restrictions on the use of bleaches, dyes, and procedures to minimize waste.
The social requirements involve:
No discrimination
No child or forced labor
The freedom of association and collective bargaining
Protected wages and working hours, among other stipulations
GRS
For fabrics to be certified by the Global Recycled Standard (GRS), they must contain recycled fibers that meet specific requirements. Products containing at least 20% recycled material are eligible for the GRS certification, but only products that contain at least 50% recycled material can display the official GRS logo.
Additionally, the recycled materials must come from trusted sources, and the manufacturer must adhere to chemical, environmental, and social criteria.
OEKO-TEX
The OEKO-TEX certification is a common one you may have seen before, as most apparel and fabrics will have some kind of OEKO-TEX certificate.
While there are many classes of this certification, each product must meet the strict OEKO-TEX test criteria, which include:
Coating
Outer material
Stichting
Application
Zipper(s)
Additionally, for a fabric to be OEKO-TEX certified, it has to be skin-friendly for various classes (like babies) and free of harmful chemicals.
RCS
To receive the Recycled Claim Standard (RCS) certificate, manufacturers must meet two conditions:
The product must contain at least 5% recycled fiber.
Comply should meet RCS requirements at each step of material sourcing and processing.
Contrary to the GRS certificate, RCS doesn't involve environmental issues or criteria for chemical use.
SGS
While the SGS certification isn't solely for fabric, it ensures that manufacturers follow ethical and environmentally-conscious processes through each production stage.
Related to fabric, the SGS certificate confirms that all the manufacturer's systems, products, and services meet international standards for responsible textile production.
What Is the Environmental Impact of Organza Fabric?
Depending on the manufacturer, the production of organza can be unsustainable and unethical. The production process, from fiber and material procurement to finished product, can result in excessive waste, pollution, and carbon emissions.
Organza is not vegan-friendly when made from silk because silk is an animal-derived product. Several thousand silkworms are required to produce just one kilogram of silk.
When organza is made with synthetic fibers, such as polyester or nylon, it's harmful to the environment. These materials are made from petrochemicals, which are non-biodegradable.
So, overall, organza isn't an environmentally friendly or sustainable fabric.
Frequently Asked Questions
Do you still have questions about organza fabric and its properties? Here are some of the most commonly asked questions about this high-quality fabric.
What is organza fabric made of?
Traditional organza is made of silk, but many contemporary organzas today are made with synthetic fibers like nylon and polyester.
Is organza fabric expensive?
Organza fabric can range anywhere from $2 to $15 per yard. Shot and satin organza are the most expensive, while crushed organza is the most affordable.
What is the difference between chiffon and organza?
Chiffon is made from silk or synthetic fibers with a fine weave. On the other hand, organza is made from silk or synthetic fibers with a delicate and complex weave.
What are the uses for organza?
The unique properties of organza make it best for wedding gowns, bridal veils, sheer curtains, table runners, dance skirts and tutus, and more.
What are the types of organza?
The primary organza types include: crushed organza, crystal organza, embroidered organza, mirror organza, satin organza, and shot organza.
Final Notes
Organza is known for its breathable, lightweight, and transparent characteristics. It's a popular fabric in fashion and decor due to its beauty and sheen, perfect for layering under thicker garments. Because of its weave method, organza is a thin and easily manipulated fabric for various projects.
Unfortunately, organza made with silk isn't vegan-friendly, and organza made with synthetic fibers may contribute to waste and pollution issues. However, there are certifications that manufacturers can receive based on their environmentally-conscious practices, so be sure to watch out for these when shopping for the fabric.
Compared to other fabrics, organza is priced in the mid-range, depending on the type you purchase. Organza made with silk will be more expensive than organza made with synthetic fibers like polyester or nylon.
Organza is a beautiful fabric that compliments elegant wedding and formal wear and boasts many benefits like its airiness, lightweight, shine, and versatility.
Hopefully, you leave this article with all your questions about what organza is, its history, its production, and its many uses answered.